About reneéglass factory . . .
Fused glass is a practical and beautiful solution for all kinds of windows, dividers and installations. From simple textures to glass murals, you can enhance both your interior and exterior environments. In homes and business, art glass can solve design and privacy issues simply and gracefully.
reneéglass factory began in 2003 as a response to design issues in my own home. I had two trouble windows. As I live in an urban environment, privacy is always an issue. I had a bathroom window in the shower. Curtains stuck to the wet skin. Yuk! I needed privacy, wanted to keep the light and had to get rid of the curtain. As an art student 10 years before, I had taken 6 semesters of glass at the University Wisconsin Madison. I thought if I could make glass panels large enough I could replace plate glass and have privacy, light and art all at once. In my living room I had a modern design. Curtains, blinds nothing carried the look. Fused glass would be great. I love installed art. It becomes a part of the building the way individual art pieces cannot. I was a tech industry product manager at the time. Noting that most homeowners have 400 square feet of windows on average, and businesses even more, it seemed an enterprise with lots of potential. Many years have passed and hundreds of projects have been completed. I guess it was a pretty good idea.
In 2006 we began an expansion. A new kiln was built enabling us to make a single sheet of glass up to eight feet by four feet. This gave us opportunities to make even more unique pieces by upping the scale. In 2007 I closed my original studio and moved my operation entirely to the Enterprise Center, Madison's entrepreneurial incubator. Here we have expanded manufacturing capacity and added employees.
I am very grateful. Thank you all, especially my husband, Jay, and children Xia, Eryndae, and Anastasia for all their creative and loving support.
- Renee Knight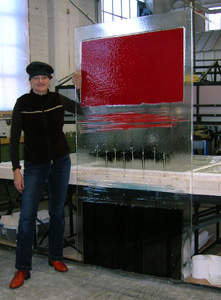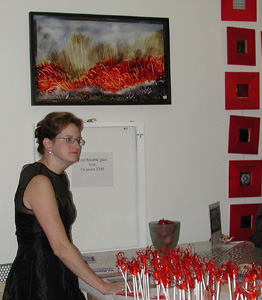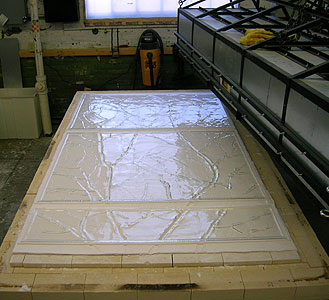 ---